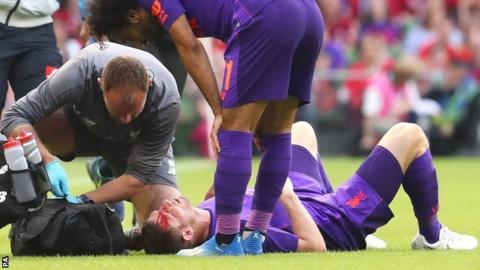 Liverpool midfielder James Milner had 15 stitches after sustaining a "crazy cut" to his head during his side's 5-0 friendly win over Napoli in Dublin.
Milner, 32, left the field in the second half after a collision with Portuguese defender Mario Rui.
"He's quite positive because he's not been given a mirror yet," said Reds boss Jurgen Klopp.
Liverpool's first Premier League game of 2018-19 is against West Ham at Anfield on 12 August (13:30 BST).
It is not yet clear whether Milner, who scored the first goal against Napoli, will miss that game.
"I knew that he would get stitches because we saw it on the pitch," added Klopp.
"He's in the dressing room so I have to see him first before I can say more. That's obviously the big shadow over that game."