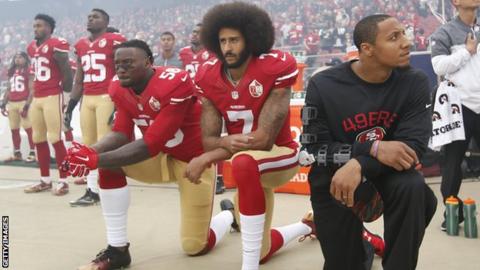 Former San Francisco 49ers quarterback Colin Kaepernick's name has been removed from a song on the soundtrack to NFL computer game Madden 19, leading to an apology from developer EA Sports.
The 30-year-old started protests against racial injustice in the US by kneeling during the national anthem.
He has been without a team since he opted out of his contract with the 49ers in March 2017.
EA Sports says it "messed up" and made "an unfortunate mistake".
Kaepernick's name was digitally removed from the song Big Bank by YG, which normally appears in a verse by rapper Big Sean and EA said it "should never have happened".
Big Sean posted on social media to say he was "disappointed and appalled" that the name was removed "like a curse word", adding: "He's not a curse, he's a gift."
EA said it will correct the mistake on an update to the game on Monday.
"Members of our team misunderstood the fact that while we don't have rights to include Colin Kaepernick in the game, this doesn't affect soundtracks," said EA Sports.
"We meant no disrespect, and we apologize to Colin, to YG and Big Sean, to the NFL, to all of their fans and our players for this mistake."
Kaepernick first protested by sitting during the national anthem in August 2016, before opting to kneel instead.
Other players followed suit, leading to criticism from President Donald Trump.
He has filed a grievance against NFL team owners he believes are conspiring not to hire him because of his protests and has received Amnesty International's highest honour.
In May, the NFL announced players that kneel for the anthem will be fined under a new policy.