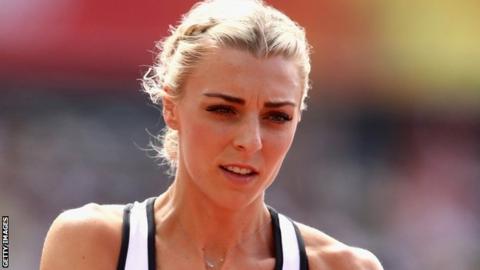 Alexandra Bell says she has been "let down" by British Athletics after not being selected for the women's 800m at next month's European Championships.
British Athletics has picked Lynsey Sharp, Shelayna Oskan-Clarke and Adelle Tracey, despite Bell being quicker than the latter two this year.
Laura Muir is the quickest over the distance in 2018 but has chosen to only run the 1500m.
Bell said she "can't express enough my disappointment" at not being selected.
British Athletics said it does not comment on individual selection matters or any part of the appeal process.
"I am disgraced [sic] by the insults that were directed towards me by individuals from British Athletics in the selection meeting," Bell, 25, wrote in a statement on social media.
"The comments and justifications made towards my case is outrageous and I can't believe I've once again been let down by my own governing body.
"My appeal was unsuccessful and the decision was held on the personal opinions and predictions of the 'professionals and experts' on the selection board… not the actual selection criteria itself with BA dismissing the selection policy altogether," added Bell, who finished fifth in the 800m final at the 2018 Commonwealth Games.
"I can't wait to prove these small minds wrong about their comment on how 'she hasn't got a medal mentality'."